Notice Board
Family owned and family run. We put all our heart and soul into giving every child the opportunity to learn to swim both for fun and to save their lives.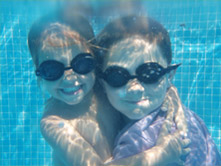 About Us
The partnership behind the School of Dolphins
Katie Tufnell lives at The Maples with her husband Mike and three children, three dogs, ponies and a guinea pig. She has run the operational side of the swimming pool since its start as a facility for swim schools and has been running the office for School of Dolphins since its conception in January 2009. Katie is an ASA Level 2 instructor.
Zoey Hussey is a fully qualified ASA Level 2 instructor and has been teaching children to swim for many years. When Zoey has not been in the pool she has been a qualified Nanny for the last 15 years with families abroad and in and around Hampshire. Zoey runs the teaching and teachers for School of Dolphins.
Our other Teachers
All our teachers are fully ASA or STA Level 3 instructors and rotate around the timetable in order for the children to gain the maximum amount of learning from their different techniques. Each teacher will stay with their sessions for a minimum of two terms.
"Small classes that are made fun"